Archive for the 'Outbeat Now' Category
On Outbeat Now!  Join us for some holiday cheer and an extended Outbeat Youth segment.  Meet Connor Norton, an amazing 19-year old student and LGBT activist who was recently recognized by the Matthew Shepard Foundation for his work.  Marsha Aizumi and her son Aiden return to talk about their new book "Two Spirits, One Heart."  Aiden is a transgender man who has found happiness becoming his true self.  Next month, Outbeat Now! becomes Outbeat News In Depth.  This new show will be a news magazine style program featuring two to four segments including Outbeat Youth.  We will feature the people and events making LGBT news.  Visit our new website now at www.outbeatnews.com
Outbeat Now December 23, 2012
[ 1:06:29 ]
Play Now
On Outbeat Now! we featured an extended Outbeat News segment honoring this year's Transgender Day of Remembrance with a look back at the Compton Cafeteria riots in 1966.  The trans community has been literally been on the forefront of the LGBT civil rights struggle.  Also, this coming week the United States Supreme Court will conference and decide if they will hear the appeal of Proposition 8 and four appeals associated with the Federal Defense of Marriage Act.  No matter what the court decides, marriage equality is a hotly contentious issue.  We featured part of a conversation that took place between journalist Dan Savage and the president of the National Organization for Marriage, Brian Brown.  These two opposites shared their respective views about religion and marriage equality.  On the Outbeat Youth segment, Greg Miraglia talks with Jason Phillips, a young singer and song writer from Davis, California.  Jason is a wonderfully talented and gifted singer and song-writer.  He performed two songs live on the show.
Outbeat Now November 25, 2012
[ 57:39 ]
Play Now
Outbeat Now explores same-sex Family Law. Jeff Basham talks with Kinna P. Crocker, Associate Attorney at Terre Family Law in Santa Rosa about all aspects of domestic partnerships and same sex marriage, and how the the SCOTUS decision about Prop 8 coming in November will affect the GLBT Community.  On Outbeat Youth, the Campus Pride National Voices In Action Series continues with Anna Aagenes about homophobia within college athletic programs.
Outbeat Now! - October 28, 2012
[ 59:58 ]
Play Now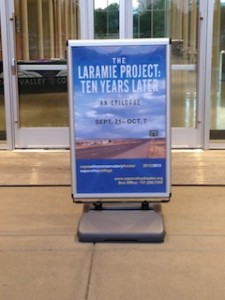 The Laramie Project Ten Years Later opened this weekend at Napa Valley College.  This is the first performance of this epilogue to the original The Laramie Project to be performed in California.  We begin by talking with Greg Pierotti, one of the writers and actors in both plays.  Greg told us about his experience traveling to Laramie in 1998 and then returning in 2008 as well as about his interview with one of the killers, Aaron McKinney.  On the Outbeat Youth segment, Greg Miraglia traveled to Napa Valley College to see the premier of the play and to talk with the play's director, Professor Jennifer King, and many student members of the cast.  Many of the student actors were too young to remember when Matthew Shepard was murdered, but have discovered the story during their research and performance of this new play.
Outbeat Now! Radio Show September 23, 2012
[ 1:02:24 ]
Play Now
On Outbeat Now!  Jeff Basham and Greg Miraglia explore the intersections of Christianity and Sexuality.  Learn from gay Christian ministers how the Bible has been misinterpreted and used against LGBT people.  Jeff goes out on location to talk with Rev. Leslie Heckathorn from the Center For Spiritual Living in Santa Rosa.  Greg Miraglia talks with Rev. Jamie Washington of Baltimore.  On Outbeat Youth, Greg Miraglia talks with Mike Braggiotti, a 21 year old who recently came out while studying to become a Baptist minister at Samford University.  Mike explains the differences between Evangelical, Pentecostal, and Christian faiths.
Outbeat Now Radio Show August 2012
Play Now
This month on Outbeat Now! we are joined by Lenny Broberg, who is long time community activist, former "Mr. Leather International" and current member of the San Francisco Police Department.   In his spare time, Lenny hosts the San Francisco Pride Parade on KOFY TV 20 and most recently hosted the GLAAD auction fundraiser in San Francisco, Los Angeles, and New York.  Lenny told us about what motivates him to be involved and why it's important to find a cause you are passionate about and to be involved in your community.  On the Outbeat Youth segment, Greg Miraglia talks with Campus Pride's executive director, Shane Windmeyer about how as an LGBT freshman to prepare for the first day of school on a new campus.  This show also is the first in a series to be presented over the next school year we are calling the Outbeat Youth Campus Pride National Voices In Action Spotlight Series.  You can learn more about this special series at www.outbeatyouth.com.
Outbeat Now! Radio Show July 22, 2012
[ 1:00:48 ]
Play Now
Outbeat Now! celebrates Pride weekend in the San Francisco Bay Area.  Jeff Basham and Greg Miraglia share the history of pride and a look at today's LGBT civil rights movement.  Our show features interviews with Gilbert Baker, the creator of the gay flag, and a premier of several segments from the Christopher Hines documentary, "Legalize Gay."
Outbeat Now! Radio Show June 24, 2012
[ 1:00:04 ]
Play Now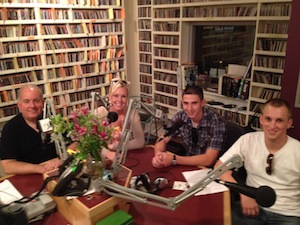 This month on Outbeat Now, Jeff Basham invites Charles Metz of the Sonoma County Pride Committee to discuss the Sonoma County Pride Interfaith Service. Charles will be joined by representatives from a few of the congregations participating in this year's service. Sister Scarlet Billows, Chair of the Pride Committee from the Russian River Sisters of Perpetual Indulgence will drop by, too. On the Outbeat Youth segment Greg Miraglia talks with cadets Bill Carpenter, Beth Ingram, and Anthony Morgado from Napa's Police Academy about how they are being trained to serve the LGBT community more effectively.  Anthony talked about how he "came out" to his class and how the class reacted.
Outbeat Now! May 27, 2012
[ 58:56 ]
Play Now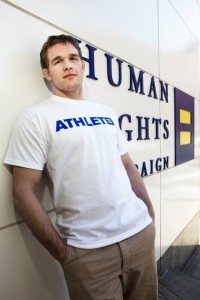 On Outbeat Now! Jeff Basham and Greg Miraglia talk about the "Day of Silence" and speak with allies who are doing just the opposite.  One such ally is Hudson Taylor, founder of Athlete Ally a new organization that is combating homophobia in high school and college athletic programs.  Hudson began his ally work at the University of Maryland where he was a theater major and a champion on the college wrestling team.  After a friend came out to him, Hudson began to hear and respond to homophobic remarks and comments from his teammates. Soon after graduation, he began touring the country and working with organizations like Campus Pride speaking to college sports teams about homophobia.  Most recently, Hudson shared his story in the new documentary, "Legalize Gay," due to premier on May 5, 2012 on the Logo network.
On the Outbeat Youth, Greg Miraglia gets caught up with Positive Images.  Co-directors Jim Foster and Nancy Vogl along with several youth members shared the latest information about Sonoma County's premier LGBT youth organization.
Learn More
Athlete Ally
Campus Pride
Positive Images
Outbeat Now! - April 22, 2012
[ 59:57 ]
Play Now
This month we spent the entire hour talking about LGBT youth suicide and heard from the Trevor Project and It Gets Better Project.  We began by looking back at some of the stories from the news, but recognized that these are but a few of the young people who have taken their own lives.  Phoenix Schneider from the Trevor Project told us about how the Trevor Project came about and shared some good information about how to recognize if someone might be suicidal and how to talk with that person in a supportive way.  The Trevor Project is the nations only 24-hour hotline supporting LGBT youth in crisis.  They have call centers located around the country that are staff by highly trained volunteers.  There is even a call center here in the Bay Area located in the HRC Store in San Francisco's Castro District.
Many celebrities and public officials have come out in support of LGBT Youth, but Dan Savage is someone who has done even more.  Dan created the It Gets Better Project.  He joined us on the air to talk about how this Internet phenomenon came to be and where it is headed.  Dan has been an outspoken advocate of LGBT Youth and is dedicated much of the funding coming in from the It Gets Better Project to support allied organizations including the Trevor Project.  Dan shared with us some of his favorite of the over 40,000 videos created for the project so far.  He also talked about the It Gets Better book and recent TV special that aired on MTV and the Logo channel.  Dan continues to work with many different organizations such as Campus Pride and the ACLU.
Here are a few of the videos we highlighted and spoke about during the show.
Learn More
The Trevor Project
It Gets Better Project
Outbeat Now - March 25, 2012
[ 1:01:26 ]
Play Now